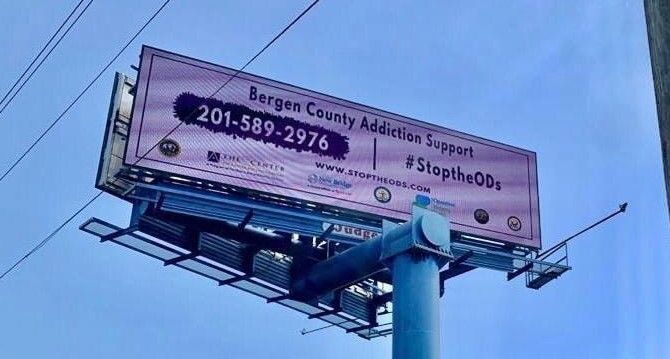 We are proud to premier the new #StoptheODs billboard on Route 17 in Rochelle Park, NJ! 
Since the start of the COVID-19 pandemic, there has been a spike in overdose deaths across the country. Reports show that as a result of COVID-19, challenges around access to treatment are increasing - creating waitlists, reduced hours, and facilities that are shut down or not taking new clients. Less people are going to Emergency Rooms because they are scared of catching COVID. Additionally, isolation, caused by stay at home orders, fear, economic hardships, etc. is leading to increased anxiety and stress.
To help mitigate this, the #StoptheODs campaign was created. Part of this campaign is a hotline created in partnership with the Bergen County Prosecutors Office which is manned 24/7 by a Recovery Support Specialist from The Center for Alcohol and Drug Resources. A website, www.stoptheods.com was also created. 
If you or a loved one is looking for services and support, please call or text (201) 589- 2976. This hotline is free, confidential, and available 24/7.
The Center for Alcohol and Drug Resources, a program of Children's Aid and Family Services, is still here and still helping. 
Sources:
Rohrich, Z. (2020). Opioid deaths are surging in the pandemic. Here's how treatment is adapting. PBS News Hour.  https://www.pbs.org/newshour/health/opioid-deaths-are-surging-in-the-pandemic-heres-how-treatment-is-adapting