Event Calendar
Caregiver Appreciation Week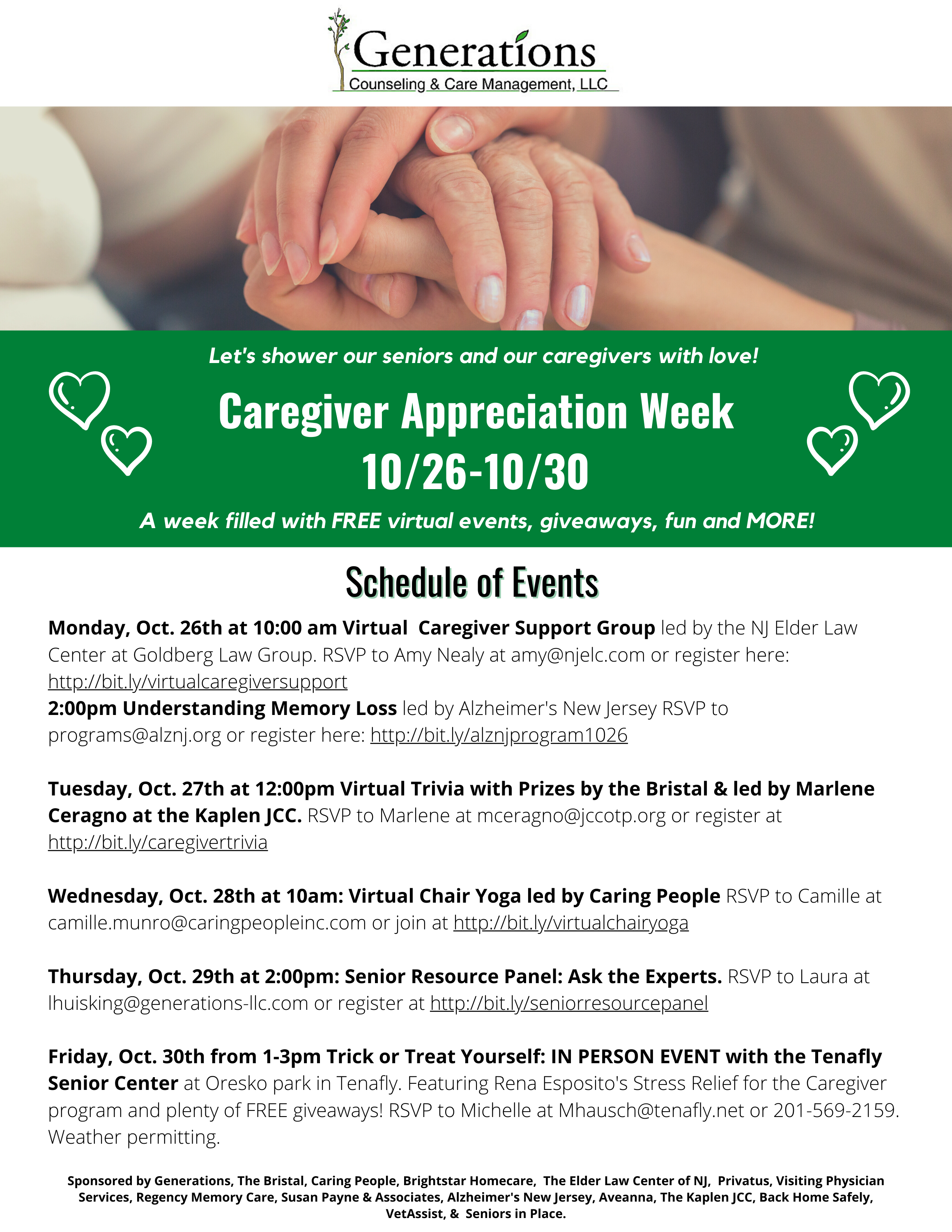 Let's shower our seniors and caregivers with love with a week filled with FREE virtual events, giveaways, fun and MORE!
Monday, Oct. 26th at 10:00 am Virtual Caregiver Support Group led by the NJ Elder Law Center at Goldberg Law Group. RSVP to Amy Nealy at amy@njelc.com or register here: http://bit.ly/virtualcaregiversupport
2:00pm Understanding Memory Loss led by Alzheimer's New Jersey RSVP to programs@alznj.org or register here: http://bit.ly/alznjprogram1026
Tuesday, Oct. 27th at 12:00pm Virtual Trivia with Prizes by the Bristal & led by Marlene Ceragno at the Kaplen JCC. RSVP to Marlene at mceragno@jccotp.org or register at http://bit.ly/caregivertrivia
Wednesday, Oct. 28th at 10am: Virtual Chair Yoga led by Caring People RSVP to Camille at camille.munro@caringpeopleinc.com or join at http://bit.ly/virtualchairyoga
Thursday, Oct. 29th at 2:00pm: Senior Resource Panel: Ask the Experts. RSVP to Laura at lhuisking@generations-llc.com or register at http://bit.ly/seniorresourcepanel
Friday, Oct. 30th from 1-3pm Trick or Treat Yourself: IN PERSON EVENT with the Tenafly Senior Center at Oresko park in Tenafly. Featuring Rena Esposito's Stress Relief for the Caregiver program and plenty of FREE giveaways! RSVP to Michelle at Mhausch@tenafly.net or 201-569-2159. *Weather permitting.*
Sponsored by Generations, The Bristal, Caring People, Brightstar Homecare, The Elder Law Center of NJ, Privatus, Visiting Physician
Services, Regency Memory Care, Susan Payne & Associates, Alzheimer's New Jersey, Aveanna, The Kaplen JCC, Back Home Safely,
VetAssist, & Seniors in Place.