Heroin: The Silent Epidemic
It has been all over the local news. There has been a dramatic increase in teenagers and young adults using heroin, especially in Bergen County. Below are a series of resources and articles for parents.
Special Report From North Jersey.com on Heroin
Click here to read The Bergen Record's Special Report on Heroin: Suburbia's Deadly Secret
Bergen County Prevention Coalition PSA
Watch the Bergen County Prevention Coalition PSA entitled The voices of Addiction of Bergen County. The video tells the stories of three people who live in Bergen County, New Jersey; a mom whose 21 year-old daughter passed away after overdosing on heroin, a young man incarcerated in the Bergen County jail who was a high school track star and began using painkillers when he broke his arm in several places, and a young woman who began using heroin when she was 17 and is now in a recovery program. Their stories began similarly - drinking alcohol and smoking marijuana were fun things to do and not a big deal or anything that was of great concern. The link between early use and the use of pills and heroin are what followed with each story's outcome different from the other; with death, incarceration, and recovery.
We want you to know that they are not alone in managing issues related to addiction, there are resources available for help and support. Reach out to The Center for Drug and Alcohol Resources at 201-261-2800 or www.tcadr.org for more information or to access resources.
Tip Sheet for Parents
Read this quick sheet for tips to help keep your family safe.  

Keep your Family Safe
CEO Robert Jones featured on NJTV "On the Record"
NJ's Heroin Epidemic and Governors' Perspectives
New Jersey's Assistant Attorney General Ronald Susswein, Ocean County Prosecutor Joseph Coronato and Children's Aid and Family Services CEO Bob Jones discuss the state's ongoing heroin epidemic, and Kent Manahan talks to former Governors Brendan Byrne and Tom Kean about the budget proposal.
To Watch the Video click here.
Turn in your expired or unused prescriptions for safe disposal
There are many sites throughout Bergen County where you can safely dispose of your expired or used prescriptions.  See the list below.  
Leonia Police Department : 1 Wood Park, Leonia 201-944-0800

Palisades Park Police Department: 275 Broad Ave., Palisades Park 201-944-0900

Paramus Police Department: 1 Carlough Dr., Paramus 201-262-3400

Park Ridge Police Department: 55 Park Ave., Park Ridge 201-391-5400

Ridgefield Police Department: 604 Broad Ave., Ridgefield 201-943-5210

River Vale Police Department: 334 Rivervale Rd., River Vale 201-664-1111

Washington Township Police Department: 350 Hudson Ave., Washington Township 201-664-1140

Waldwick Police Department: 15 E. Prospect St., Waldwick 201-652-5700
---
About the Center for Alcohol and Drug Resources
The Center for Alcohol and Drug Resources, a program of Children's Aid and Family Services, is a recognized leader in community and school-based education programs about alcohol and drug abuse prevention. Founded in 1979, The Center provides extensive resources, information, expertise and support in understanding and preventing alcohol and drug abuse and advocates for responsive prevention and treatment services. The Center offers evidence-based programs to communities and schools, as well as a full-service resource and referral center. The Center has programs, services and workshops for people of all ages to strengthen families and promote healthy lifestyles. The Center is the official Prevention Resource Center for Bergen County and towns East of the Passaic River in Passaic County.


---
TCADR Self-Administered Screening Tool
The Center for Alcohol and Drug Resources (TCADR) has launched a web-based interactive screening tool designed to provide users with appropriate referrals to addiction treatment services. TCADR Self-Administered Screening Tool guides the user through a short series of questions and, based on the responses, generates two referrals to treatment providers local to Bergen County, New Jersey and its immediate vicinity. While not intended to diagnose a substance abuse problem, the tool utilizes the American Society of Addiction Medicine (ASAM) Patient Placement Criteria to provide referrals to programs that are appropriate to the user's needs. The ASAM Criteria is the most widely used and comprehensive criteria used for the placement of individuals with alcohol and drug problems. The tool is not designed to take the place of an assessment by an addictions professional, but it will take the guesswork out of where to turn for help.
To take the TCADR Self-Administered Screening Tool click here.
---
Parenting and Family Guide
This grid is updated monthly, September through June. If you are a service provider and wish to promote your programs on this please contact Chanel Dupree at cdupree@cafsnj.org.
Click on the grid below to download (pdf format).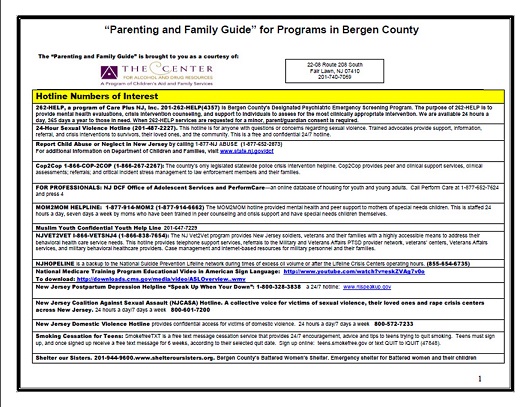 ---